Load Frame, Master Loader, Elite Series, 11000 lbf (50kN)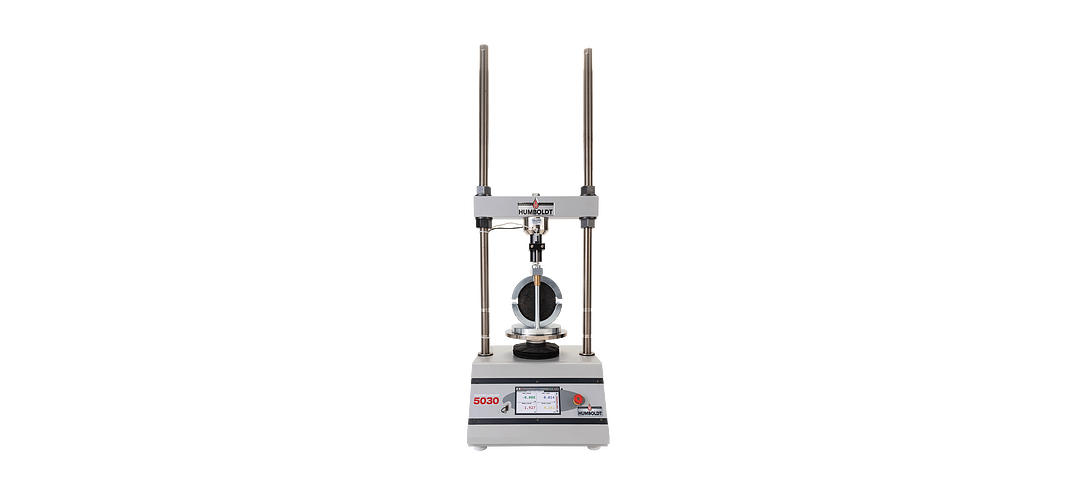 Product Options
Load Frame, Master Loader, Elite Series, 11000 lbf (50kN)
The HM-5030 Master Loader provides the ultimate solution for a lab looking to perform Marshall, Hveem and SCB testing, but would also like to be able to use the load frame for all their other testing needs as well. The digital MasterLoader provides that ability by easily handling asphalt compression testing, as well as soil tests such as CBR and triaxial tests including UU, CU, CD and UC.
The digital MasterLoader has the ability to work as a stand-alone unit, which can perform Marshall tests at the push of a button; or in conjunction with Humboldt's NEXT software, the Marshall software module and a computer, it can gather data in real-time data acquisition in the form of charts and graphs.
Designed for applications requiring multi-purpose loading systems, such as road construction projects in either mobile or fixed labs, educational institutions and consulting firms, the HM-5030 Master Loader is ideal for just about any application from road construction to high-volume commercial and educational laboratories.
While the HM-5030 has been specifically designed for soil testing labs conducting multiple testing operations including: UU, CU and CD triaxial, UC, CBR and LBR, it is also perfect for running Marshall, Hveem, TSR and SCB asphalt tests as well. Its heavy-duty design and precise stepper-motor control provide a stable platform for years of reliable service allowing the HM-5030 to perform any tests required up to its load capacity of 11000 lbf (50kN).
Like all Elite Series load frames, the HM-5030 is built around Humboldt's integral, 4-channel data logger with touch-screen control, which allows the load frame to be used as a standalone device capable of full test control and data logging. It can also be controlled by a networked computer at any location with access to the network.
Recommended Marshall, TSR and SCB Accessories for use with HM-5030, HM-5120 and HM-5170 Load Frames
For more information about upgrading your older equipment to the latest, compatible machine, click here.
For more information about the versatility of the HM-5030.3F Load Frame in Triaxial, CBR/LBR and Marshall testing, click here.
Specifications
| | |
| --- | --- |
| Load capacity: | 11000 lbf (50kN) |
| Speed range — Testing: | 0.00001 – 2.00000 in/min (0.00001 – 50.80000 mm/min) |
| Speed range — Fast Approach: | 3.0 in/min (75.0 mm/min) |
| Data channels: | 4 |
| Platen Size / Travel: | 10" (254mm) / 4" (100mm) |
| Data storage: | 1000 tests and up to 3000 readings per test |
| Clearance, vertical: | 40" (1000mm) |
| Clearance, horizontal: | 15" (380mm) |
| Voltage: | 110/220V 50/60Hz - 5.0amps |
| Net weight: | 300 lbs (136kg) |
Controller Specifications
| | |
| --- | --- |
| Display (Resistive Touch) | 7" (178mm) VGA (480 x 800) |
| Real-time Test Data | Graphic and Tabulation |
| Processor | Dual 32-bit ARM |
| RAM | 64MB |
| Memory, Non-Volatile | 4GB |
| Analog to Digital Converter | 24 bit |
| Data Acquistion | 4 Channels |
| Logging Speed | up to 50 readings per second |
| Multi-Test Storage | 1000 |
| Points Per Test | 3000 |
| USB port (front) | export data, import/export calibration data, WiFi |
| USB Port (back) | provides external power for wireless access point |
| Ethernet Connection | for network connectivity |
| Emergency Stop | Large Button |
| 24-bit Differential Analog to Digital Converter | 2 |
| Ambient Temperature Sensor | 1 |
| Ambient Temperature Sensor | 1 |
| Limit Switches | 2 |
| Firmware Update | Ethernet or flash drive |
Typical Marshal, TSR & SCB Setup for
HM-5030.3F
| SKU | QTY | Name |
| --- | --- | --- |
| HM-2300.100CP | 1 | Pancake-Type Load Cell, 10,000lbf (50kN) (New Style) w/Plug and adapter |
| HM-2305.10 | 1 | Linear Potentiometer Transducer, 1.0 inch (25mm) |
| HM-2305BRT | 1 | Strain Transducer Bracket for HM-2305.10 Transducer |
| HM-2305BRSQ | 1 | Displacement Transducer Bracket for HM-2305.10 Transducer |
| HM-5005SW | 1 | Marshall Module for Humboldt NEXT Software |
| H-1342 | 1 | Marshall Breaking Head, 4" |
| H-1362 | 1 | Marshall Breaking Head, 6" |
| H-1349 | 1 | Lottman Breaking Head, 4" |
| H-1369 | 1 | Lottman Breaking Head, 6" |
| H-1351 | 1 | Semi-Circular Bending (SCB) Head |
Accessories
Standards
Standards
AASHTO T245
T283
BS 598
EN12697-34
Product Videos
All Videos