Saybolt Viscosity Bath for Automatic Timers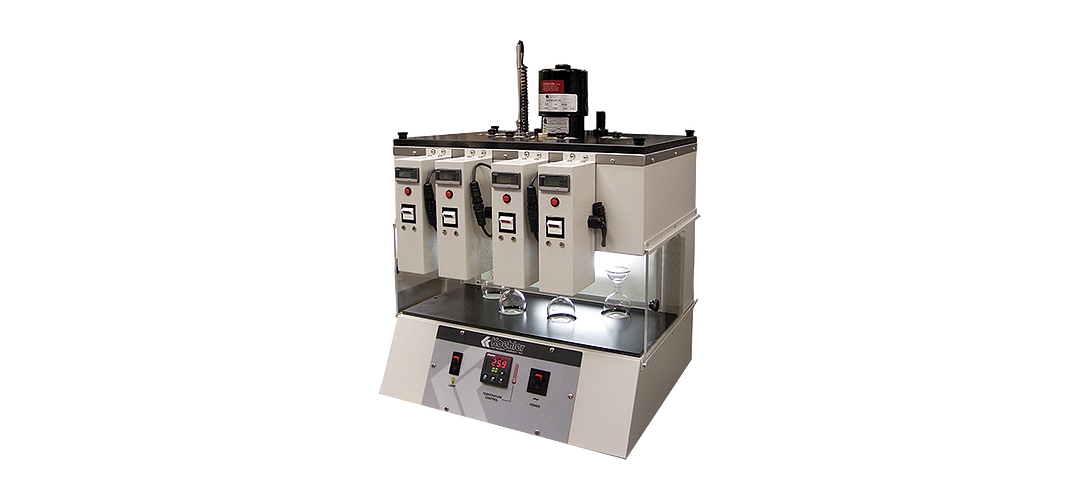 Product Options
Saybolt Viscosity Bath for Automatic Timers
Supports the following standards: ASTM D88, ASTM D244,
ASTM E102

,

AASHTO T72

Constant temperature viscosity bath designed for use with one to four Automatic Saybolt Viscosity Timing Sensors.

Bath is sold with no timers, order auto timers separately.

Features simple push-button controls and dual digital displays are used for easy setting and monitoring of the baths temperature.

With a capacity of four viscometers and 60ml receiving flasks, the bath features sliding draft shields, chemical-resistant alignment plates for handling of flasks and a glare-free fluorescent backlight for easy viewing of test sample. The insulated bath interior is constructed entirely of heavy-gage stainless steel and the built-in overflow pipe and drain valve simplifies filling the bath oil to the required level. A chemical resistant top plate provides insulation and is easily removed to allow for cleaning of the bath interior. A cooling coil for tap water or refrigerated coolant is provided for operation at near-ambient temperatures. Steel cabinet has leveling feet and a chemical-resistant polyurethane-epoxy finish.

Temperature range is ambient to 464°F (240°C) and temperature stability is ±0.05°F (±0.03°C). Bath capacity is 5 gallons (19L) and recommended bath medium is water or suitable heat transfer fluid.

Included accessories: Cleaning plunger; chained corks; oil strainer; withdrawal tube; tube nut wrench; orifice wrench; port closures; port covers and thermometer supports.
Accessories
Replacement Parts